Building Resilience for Data-scarce Water Systems in Pakistan 
On July 7, 2023, the Centre for Water Informatics and Technology organised a workshop titled "Building Resilience for Data-Scarce Water Systems in Pakistan." The workshop addressed the critical challenges faced by local water systems, exacerbated by the limited availability of data. Such data limitations have posed significant obstacles to effective water resource management in the region. The primary objective of the workshop was to showcase innovative research initiatives undertaken by academic, research, and public organisations to tackle these challenges head-on. 
Bringing together researchers and practitioners working in the field, the half-day event provided an excellent platform for knowledge exchange, collaboration, and informed discussions. The participants were exposed to novel methodologies designed to tackle the issue of data scarcity in local water systems. This exposure was seen as essential in promoting evidence-based decision-making, sustainable water management practices, and the formulation of inclusive policies.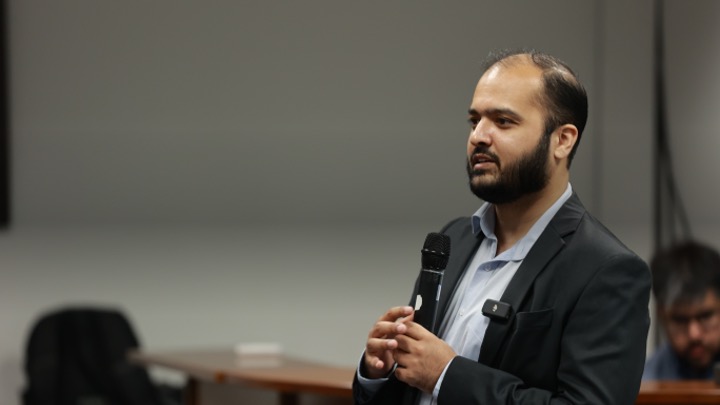 The workshop was organised as part of a project titled "Securing Socio-Economic Stability and Data-Driven Resilience for Ungauged Namal Valley Watershed at Monsoon Margins", funded by the German Academic Exchange Service (DAAD). Dr. Talha Manzoor, Assistant Professor of Research at the Centre for Water Informatics and Technology (WIT), and Dr. Malik Jahan Khan, Associate Professor of Computer Science are part of the project team on behalf of LUMS.  Dr. Shabeh Ul Hasson, Interim Professor of Terrestrial Remote Sensing at Universität Hamburg, Germany; and Dr. Usman Ali, Assistant Professor of Electrical Engineering at SEECS, NUST are also part of the project team.  
In the opening of the workshop, Dr. Talha Manzoor, Assistant Professor of Research, WIT, LUMS set the stage by delivering introductory remarks. He introduced the project and discussed the challenges and insights gained from implementing hydrometric sensor networks in the Namal Valley region. 
He highlighted a critical issue prevailing in the field of hydrology—the neglect of small reservoirs. He pointed out that while large reservoirs are often considered more significant contributors to the water cycle, the unique aspect of small reservoirs lies in their close connection with the local social population. As a result, challenges associated with small reservoirs are amplified due to the intricate human-water linkages at this scale.  
The insights gained from the project activities hold tremendous potential to inform better water resource management practices, facilitate evidence-based decision-making, and contribute to the overall resilience of water systems in the region. 
His talk sparked interest and set the tone for further discussions and knowledge exchange during the workshop, motivating participants to explore innovative methods to address data scarcity and enhance water management practices in similar water-scarce regions.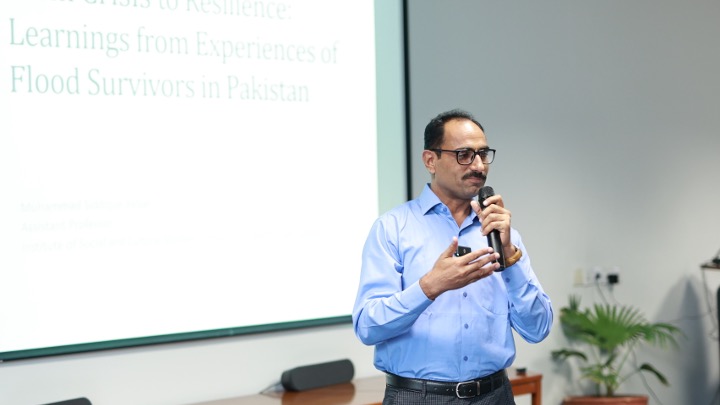 Dr. Muhammad Siddique Akbar, Assistant Professor, Institute of Social and Cultural Studies, University of the Punjab, presented his project; From Crisis to Resilience: Learning from Experiences of Flood Survivors in Pakistan. He discussed how water scarcity is a significant issue, like the challenges faced in providing disaster relief. Also, the distribution of disaster assistance was found to be biased and influenced by political factors. The allocation of aid was intertwined with power dynamics. To address water scarcity effectively, a policy of "water diplomacy" was suggested – the policy would include various stakeholders such as landlords, tenants, revenue clerks, politicians, and local social leaders and it would prove to be beneficial.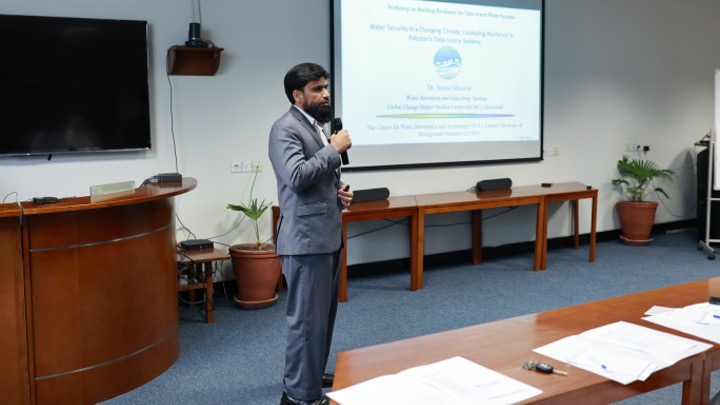 Dr. Amjad Masood, Senior Scientific Officer, Water Resources and Glaciology, Global Climate-Change Impact Studies Centre (GCISC), Islamabad gave a talk titled; Water Security in a Changing Climate: Catalyzing Resilience in Pakistan's Data-Scarce Systems. He discussed the integration of advanced data collection technologies, such as remote sensing and Geographic Information Systems (GIS), to bridge the data gap. These technologies can provide valuable insights into water availability, usage patterns, and environmental changes, enabling better-informed decision-making. Additionally, engaging local stakeholders is essential to develop context-specific solutions that address water challenges in different regions of Pakistan. 
Dr. Hassan Furqaan Khan, Assistant Professor of Environmental Science at, Habib University delivered a talk titled, Using Mixed-Methods Approaches to Estimate Household Water Demands in Water-Stressed Cities. He discussed the innovative application of mixed methods approaches to estimate household water demands in Karachi. In his talk, he emphasised the importance of a comprehensive and holistic understanding of water consumption patterns within water-stressed cities.  
He highlighted a critical concern regarding the lack of accurate information about water requirements in Karachi. He further shed light on how water use projections for Karachi have been marred by overestimation and biased data collection methods. Dr. Khan emphasised that such projections fail to consider the significant socio-economic variability within Karachi's diverse population. This oversimplification overlooks the complex range of factors that influence water consumption patterns, including income levels, cultural practices, and local conditions.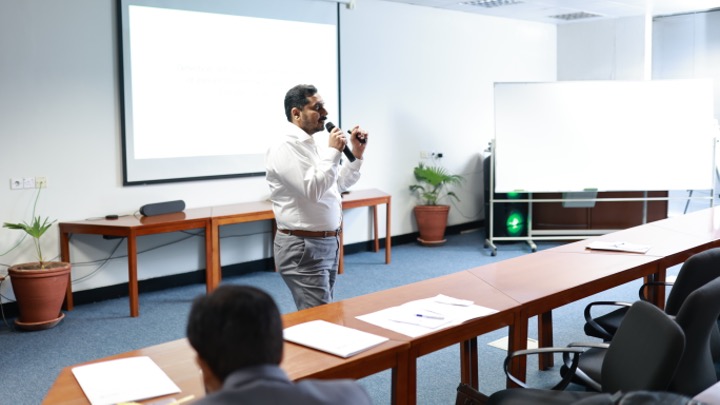 Dr. Shabeh Ul Hassan, Interim Professor of Terrestrial Remote Sensing, Universität Hamburg, presented his project, Detection, Attribution, and Projections of Jhelum Streamflow Changes to Climate Change. He discussed the impact of climate change on the Jhelum River's streamflow, and the HAREME Lab, which examines Himalayan Basins like the Jhelum, was introduced. The presentation explored detection, attribution, and projections, using ISIMIP protocols for model evaluation. The significance of Himalayan water resources for irrigation, power generation, and development was highlighted, along with the vulnerability of high mountains to climate change due to Early Deglaciation Warning (EDW). Future projections suggested increased low flows but decreased high flows, with reduced flood inundation depth. The presentation emphasized the need for comprehensive understanding to manage water resources effectively in the face of changing climate impacts.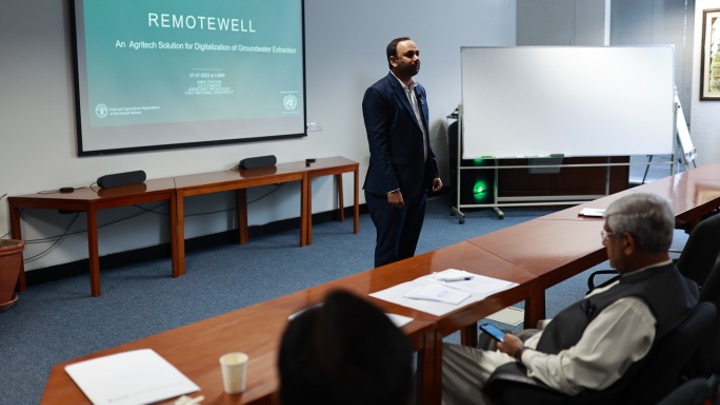 Mr. Amir Zahoor, Assistant Professor of Electrical Engineering, FAST National University, Faisalabad's presentation introduced Remotewell: An AgriTech Solution for Digitalization of Groundwater Extraction." It addressed the challenges in Pakistan's groundwater-based agriculture, emphasizing the limitations of undigitized farms in managing irrigation, fertilization, and crop health. Remotewell offers several product variants to tackle these challenges, enabling remote monitoring and control for improved efficiency and productivity. 
Mr. Zahoor highlighted how Remotewell's technology bridges the gap between traditional farming and modern solutions, positively impacting yield, water usage, and crop performance. The presentation underlined the company's extensive presence across Pakistan and its role in advancing agricultural practices. 
The talk also delved into the complexities of solar tube wells, acknowledging both their potential and risks. Remotewell's monitoring capabilities were emphasised to address these challenges and optimise water usage. In essence, Mr. Zahoor's presentation showcased how technology like Remotewell can transform agriculture, aligning it with sustainability and progress.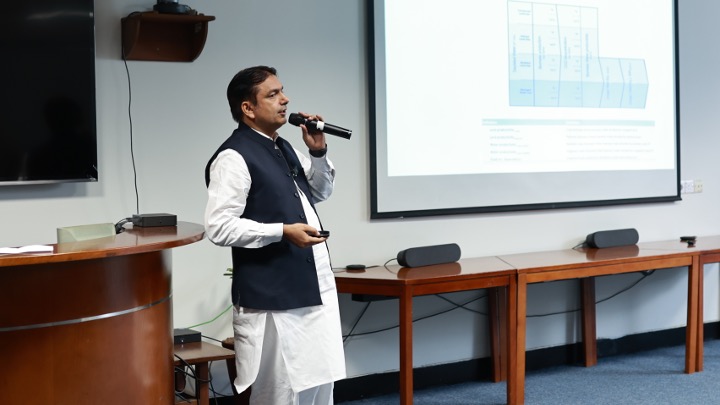 Dr. Jahanzeb Masud Cheema, International Researcher - Water Resources Management, International Water Management Institute (IWMI)'s presentation centered on "Water Accounting for Efficient Water Resources Management." He discussed key concepts such as spatial water productivity and depletion, shedding light on various techniques for validation through tools and water accounting instrumentation.  
The presentation highlighted the complexities of water resource management and the urgent need for a systematic approach, as exemplified by water accounting. By addressing challenges and promoting informed decision-making, water accounting contributes to more sustainable and equitable water resource management.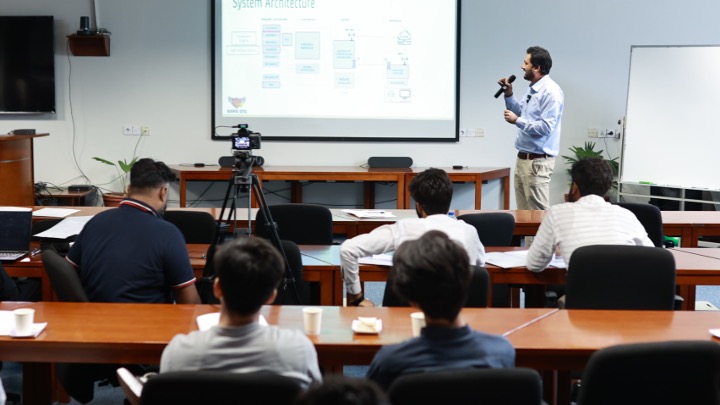 Dr. Syed Muhammad Abbas, Co-founder and CEO, HawkEye Pakistan's, presentation "Advanced Robotics for Sustainable Management of Water Resources" highlighted the growing role of robotics in sustainable water resource management. By automating navigation, utilizing advanced sensors, and developing specialised platforms, robotics can contribute significantly to efficient data collection, resource monitoring, and effective decision-making in water management practices.  He elucidated the fact that by harnessing auto navigation, sophisticated sensors, and specialized robotic platforms, the industry is poised for a revolutionary shift towards data-driven decision-making, improved resource monitoring, and a more sustainable approach to managing our precious water resources.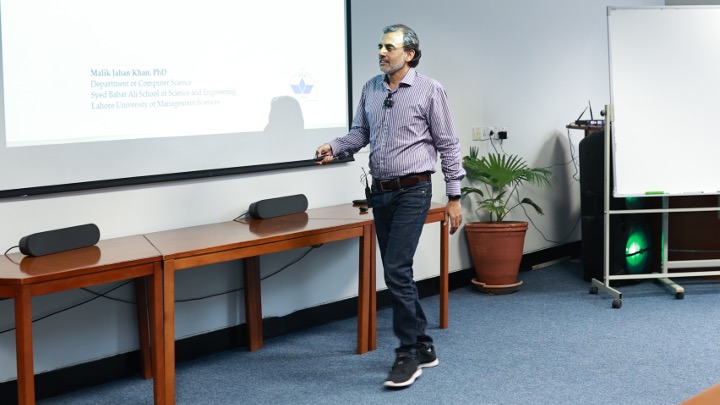 Dr. Malik Jahan Khan, Associate Professor, Department of Computer Science, LUMS' presentation, "Prediction of Extreme Climate Conditions in Namal Valley using Machine Learning," discussed the power of sophisticated algorithms in foreseeing climate extremes. The talk delved into the challenges faced by the population residing in the Namal Lake catchment, shedding light on its vulnerability to monsoon floods and water scarcity during other periods.  
Dr. Khan's presentation displayed the potential of machine learning in climate prediction. By leveraging advanced algorithms, his work aims to transform climate risk management, enabling timely actions, optimised reservoir usage, and enhanced preparedness against extreme conditions. 
The workshop concluded on a positive note with Dr Muhammad Sabieh Anwar, Dean, Syed Babar Ali School of Science and Engineering, LUMS distributing tokens of appreciation to the distinguished speakers. This symbolic gesture highlighted the collaborative spirit that defined the event. The concluding remarks emphasised the importance of ongoing collaboration, research, and innovation to tackle water resource challenges.