An Insightful Workshop on Digital Sustainable Agriculture
The 3-day Workshop on Digital Sustainable Agriculture, organized by the NCRA-Agricultural Robotics Lab (NARL) at the Centre for Water Informatics and Technology (WIT), LUMS, commenced with an inspiring array of talks and presentations. Eager participants, hailing from diverse backgrounds in robotics, digital agriculture, and IoT, gathered to explore the latest research and advancements in precision agriculture.
The Workshop on Digital Sustainable Agriculture commenced with much anticipation as participants gathered at the Dean's Office Smart Lab, 4th Floor, SBASSE. Dr. Hassan Jaleel, one of the organisers of the workshop and Co-Principal Investigator of the NCRA-Agricultural Robotics Lab, delivered a warm welcome, introducing the attendees to the goals and objectives of the workshop.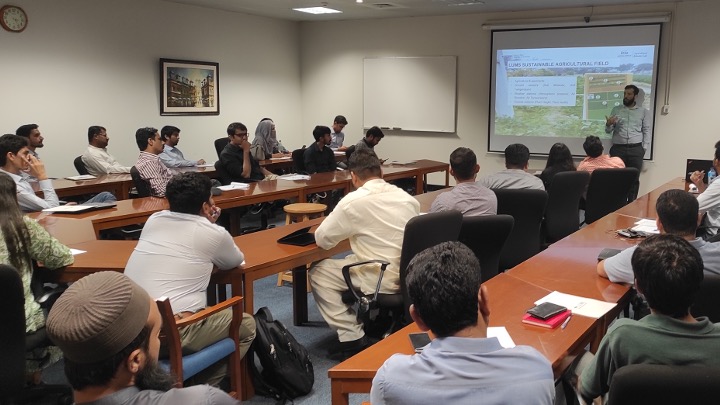 Following the introduction, Ms. Rida Zainab took the stage to shed light on the importance of sensors in agriculture. She delved into the world of multispectral imagery and soil sensors, emphasising their role in providing valuable insights into crop health and soil conditions.
In the afternoon session, the spotlight shifted to robotics as Mr. Hassan Nawaz engaged the audience with a talk on drones and 3D mapping in agriculture. Participants were informed on the potential of these technologies in revolutionising the way we perceive and manage farmlands.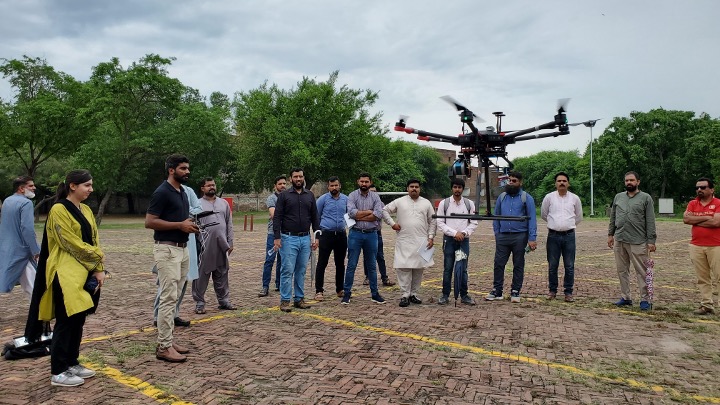 On day 2 of the workshop, everyone assembled outside Syed Babar Ali School of Science and Engineering (SBASSE), to visit the LUMS Digital Sustainable Agricultural Field. Faculty members, research teams, and support staff guided the participants through a series of captivating hands-on activities.
The field visit proved to be a highlight of the workshop, as attendees witnessed drone flights and field scans in action. The aerial data captured provided valuable insights into crop health and the overall state of the farmland, encouraging participants to reimagine conventional farming practices.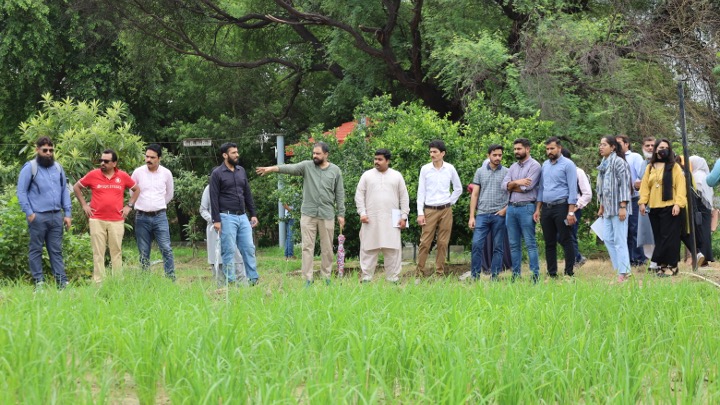 Immersive field activities centered around various IoT sensors, including soil moisture sensors and time domain reflectometry, kept participants actively engaged. They discovered the power of real-time data in optimising irrigation strategies and managing water resources efficiently.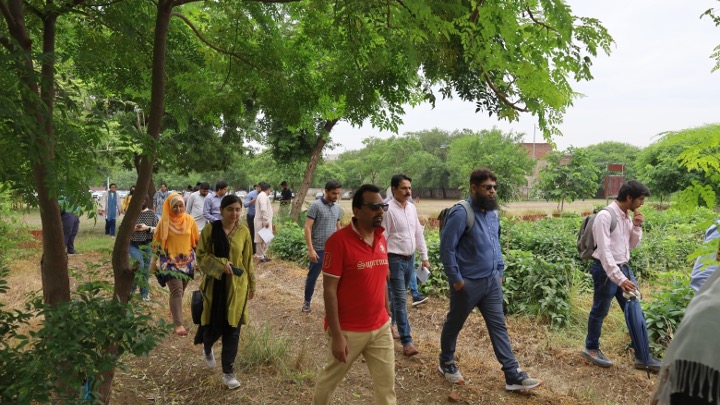 Dr. Syed Muhammad Abbas, CEO, Hawkeye, joined as a guest speaker and gave an insightful talk at the LUMS Digital Sustainable Agriculture Facility. He gave an overview of the facility and how the centre is using different platforms for precision agriculture. He gave insights based on the technical specifications of the drones and other robotic platforms - explaining the technical details of aerial robotics and remote sensing to participants in the field.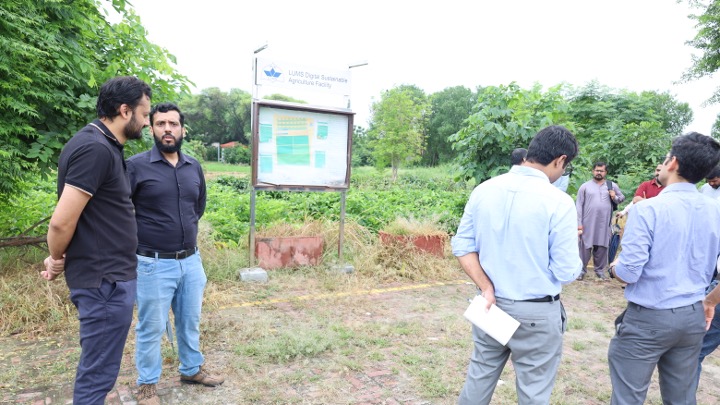 In the afternoon, Mr. Hassan Nawaz and Ms. Rida Zainab conducted a hands-on activity on monitoring plant health and phenotyping. Participants calculated vegetation indices, examined chlorophyll content, assessed canopy temperature, and explored water indices, collectively revealing the wealth of information accessible through remote sensing techniques.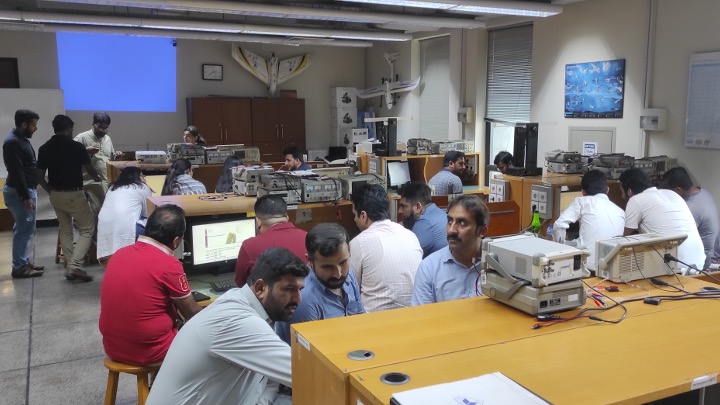 The day also featured insightful presentations. Dr. Murtaza Taj emphasised how cutting-edge technologies play a pivotal role in propelling advancements in agriculture. He discussed the significance of using AI and remote sensing for crop classification, enabling the assessment of cropping patterns and yield predictions. Additionally, he highlighted how remote sensing can be harnessed to monitor changes in land usage over time.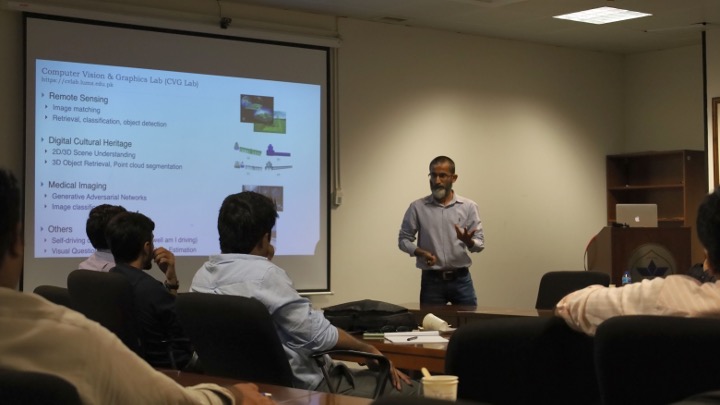 Dr. Mian M. Awais added to the discourse with his talk as he discussed detecting crop diseases and utilising remote sensing for forest applications. He emphasised the significant role that remote sensing plays in promptly identifying diseases and effectively managing forest resources with precision.
Dr. Awais also discussed the innovative approach of using mobile phones to capture on-field images, which are then employed for detecting diseases in rice crops. Together, their discussions highlighted the promising potential of remote sensing, AI, and edge IoT technologies in molding the forthcoming landscape of agriculture.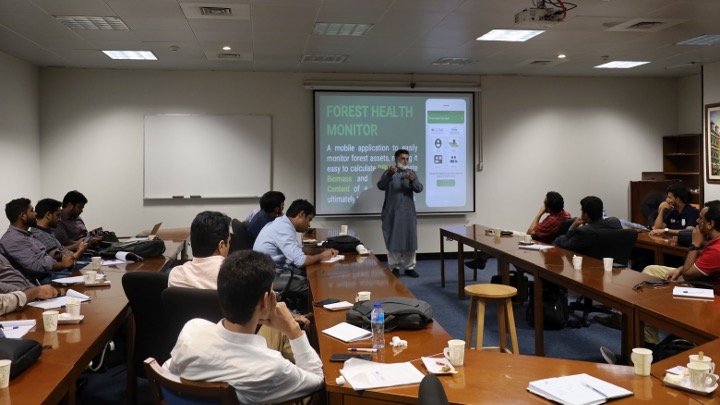 The final day of the workshop commenced with Dr. Abubakr Muhammad's presentation on WIT's Sensor Network and its collaborative efforts with the Punjab Irrigation Department. Attendees were introduced to the concept of demand-driven irrigation and the potential impact of such initiatives on water resource management. He spoke about how the Surface Energy Balance (SEB) plays a crucial role in determining the available energy for evapotranspiration (the combined process of water evaporation from the soil surface and transpiration from plants) in the context of sustainable agriculture and soil moisture monitoring.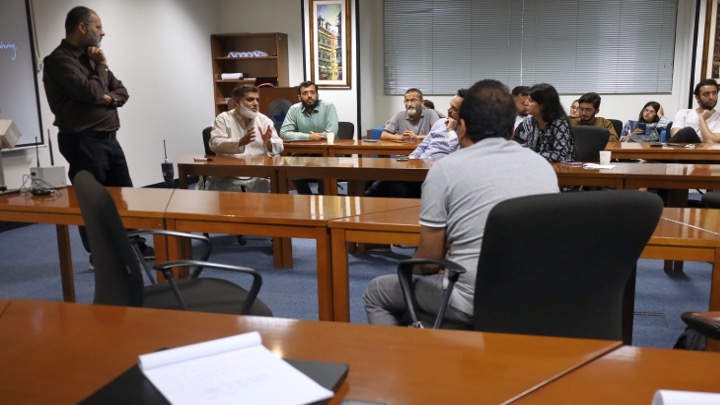 Mr. Adil Masood followed suit with insights into soil moisture sensors and canopy temperature sensing, highlighting their critical role in understanding plant behavior and optimizing irrigation strategies. Canopy sensing is a novel approach to detecting water stress in plants. By correlating its data with weather and soil moisture information, it can provide valuable insights. This innovative sensor can become a crucial tool in digital agriculture, offering irrigation advice to farmers and improving water usage efficiency for better crop yield and plant health.
In the next session, Ms. Mishal Fatima elaborated on the IoT ecosystem, uncovering opportunities for digital agriculture while emphasizing the importance of complying with local laws and regulations. Later, a hands-on activity took place where participants had the opportunity to create their own digital agriculture sensors using LoRaWAN technology, emphasising the accessibility of such tools for broader adoption such as farm activity monitoring, operational monitoring, and various other monitoring i.e cold storages, cold chains etc.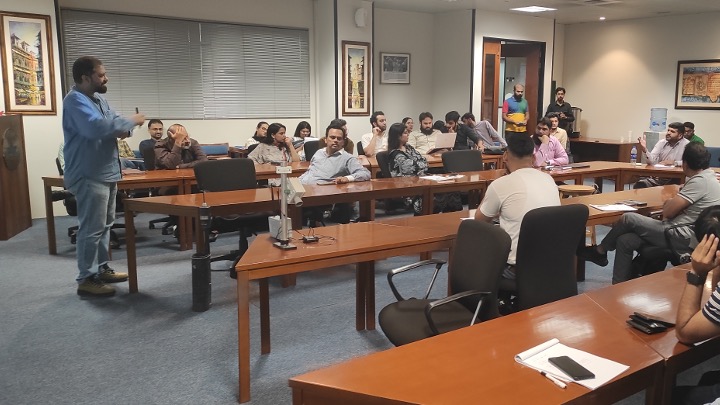 Dr. Khurram Bashir, Associate Professor, SBASSE concluded the presentations with his work on developing stress-tolerant crops and presented various GM and non-GM technologies for sustainable agriculture. Participants gained valuable insights into drought-tolerant transgenic cotton plants and the enrichment of essential minerals in seeds while reducing harmful chemicals in food. He also spoke about various challenges faced in research, due to a diversity of factors such as limited private sector funding and environmental factors in the country.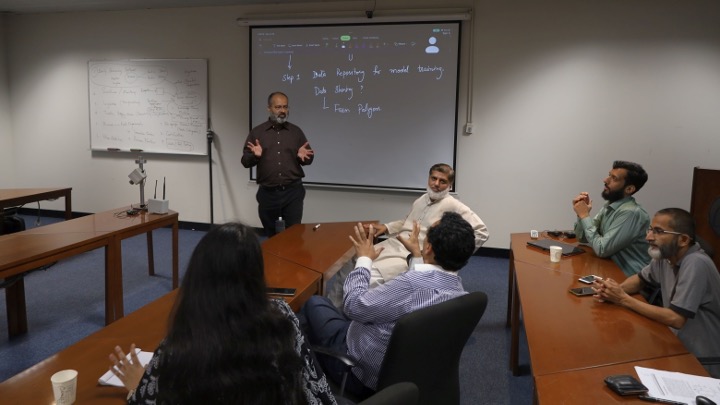 The workshop on Digital Sustainable Agriculture provided a unique platform for participants to experience innovative technologies and envision a more sustainable and efficient future for agriculture. The workshop concluded with a focus group where stakeholders actively contributed to identifying urgent needs for digital and sustainable agriculture. The session ended with a commitment to continue engaging stakeholders and conducting research that addresses these needs and fosters positive impacts in the agricultural sector.